I found out yesterday that November is Adopt an Indie Month, dreamed up by Donna Brown of
bookbagsandcatnaps.com
. I already know author cross-promotion is a win-win, and I love the idea of saving time while also creating worthwhile content for my followers, mostly other writers. I've adopted one author already,
Elizabeth Kirk
, and her book,
More than Magic: Semester Aboard
. I'll be posting more information about Elizabeth later. For now, I'd just like to show you her book as shown on Smashwords. Look between the railing. Is that somebody in the water?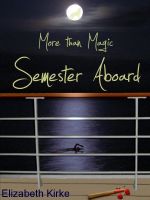 Here's the short description:
Jen is looking forward to spending an entire summer studying abroad on a cruise ship and she knows the experience will change her life. Then she sees something she wasn't supposed to see, something she can't explain. Jen finds herself thrust into a world she never knew existed and her life will change more than she imagined. That is, if she can survive the dangers lurking on the ship.
Click on the picture and it will take you right to the Smashwords page where you can read the long description. Once you read that, I hope you're excited to read as I am. I already downloaded but Elizabeth has to wait until I finish books by two other indie authors.
I intend to review those books once I've finished reading. I'll reveal one next week as a surprise to the author who sent me an autographed copy with no strings attached because I won a t-shirt in her launch contest. The t-shirt was awesome, but not as much as the book I begged her to send instead. I'm reading it my usual way, on my reading walks, which are great exercise.
The other author made his book available for free download and I took immediate advantage even though I don't have an e-reader yet except for my small android phone. Even though I need reading glasses, phone reading means I can walk later in the evening when it's too dark outside to read a real book without a flashlight. Don't worry, I don't trip.
While I'm reading these books, I'm offering an open interview invitation to authors who write fiction for children and/or fantasy and SF for children through adults, indie or not. Your book does not have to be published yet but it should be launched within a few months of the interview. I believe if you make time for an interview to build your platform, more readers will make time to read your book. It can even be an older title for which you'd like to find a wider audience or have plans to re-release.
The books below represent a range of what I've read over the years, old and new. Tolkien started my habit, and I crushed on Asimov's R Daneel Olivaw. I Robot is dogeared because a dog named Crunch crunched it. Others sat hours in the bathroom with my youngest son. These books are not even the tip of the iceberg of what I've read. Besides the iceberg, there's an avalanche available in my chocolate and books contest with new drawings every month.
The interview deal does not require you to provide me a free copy of your book to review, but if you do provide it, expect an honest review. You can check my previous reviews on the Book Review tab at the top of this blog. I didn't start reviewing until September but you can still get an idea of the review quality. I'll warn you ahead of time I have a low tolerance for poor editing, so make sure it's thoroughly proofed and correctly
formatted
before you send a review copy unless you're asking for a beta read or full critique. I do those on an exchange basis.
Whether or not you choose a book review, I will schedule an interview. I even have pre-written questions meant to grab the attention of readers with similar interests. You may choose from among the 10 below, but please answer at least 5.
1. Why did you start writing?
2. What motivates you to keep writing when life gets tough and in this tough market?
3. What most influenced you to write in this genre (one particular author or many)?
4. Please tell about your WIPs, at least genre and age group, even if the rest is hush-hush.
5. Are you an outliner or a pantser and why?
6. What is your editing system, a local critique group, online partners, beta readers, pro, etc.?
7. What are the top three reasons you decided to publish as an indie (if you are one)?
8. Is there a message in this book for your readers or is it just meant to entertain?
9. Do you have an author theme, a message for your readers, in all your books?
10. What advice do you have for aspiring writers/authors?
11. Yes, I said 10 questions, but if you have a question or your own you're burning to answer, go ahead and substitute one of yours for one of mine.
Whether you write for teens or adults, I do have a few conditions.
1. Your book must be a clean read because my audience is children through YA and I hope those age groups will eventually read this blog. Besides, I don't like reading intimate sex scenes because I feel like a voyeur. If that makes me a prude, so be it.
2. Your book must not attempt to convince those who believe in God that we're mistaken or that we're on the wrong side either by overt means or subtle, such as evil winning over good (by the end of your book).
3. You must follow this blog, follow @sherahart on twitter, add me to your writer's circle on Google+ and like my facebook author page. You can do these things through my sidebar or chocolate contest if you prefer to be entered in the monthly drawing for books and chocolate, your choice on both. You do not have to be a new follower to enter but you do have to comment on what things you did and leave your email address. Today is the first day of a new contest month so you're not competing against any previous entry with less than 5 points. You can either click the picture below or go through the win books and chocolate tab at the top of this blog. In addition you agree to share the interview on at least 3 other social media sites with a mention of my name or twitter handle as applicable.
As for the winner of the previous drawing, I will edit this post later to add the name. Today has been too hectic to compile the points, throw them in the chocolate pot, and draw a winner.
If you have suggestions or other ideas for my interview plan, please let me know. It's my blog but I want your interview to be your show for the day. I also volunteered to help with
WoMen's Literary Cafe
book launches starting in December so get in line before it gets too long.
One last note, please let me know if you want to offer your book in a contest. I'll be participating in this giveaway next with exposure to over 300 other blog giveaways. After this contest ends I'll choose another hosted by or featured on the same book reviewer website, I am a Reader, Not a Writer. Giving away your book is NOT a requirement for your interview, but would provide extra exposure for the length of the giveaway.
Thanks!