Hi, everyone, it's time for another big book giveaway. This is the second one on my new WordPress blog, and I'm almost done with Blogger. I have two separate giveaways, one for US only and another for US/international.
Many thanks to Valerie at Stuck in Books and Kathy at I am a Reader for hosting this hop.
If you want to win a box of my used books, you have to live in the US and subscribe by email to sherahart.net, not sherahart.blogspot.com. I'd hate to have Rafflecopter pick a different winner because someone didn't subscribe here, so please pay attention to the rules.
For international readers (US readers can also enter), I'm featuring A. G. Henley's Brilliant Darkness Series with 2 paperbacks and 3 E-book copies available via Book Depository and/or Amazon, so winners of paperbacks must supply valid shipping addresses. For these prizes, subscribing to sherahart.net by Networked Blogs or Bloglovin will do.
The Brilliant Darkness Series by A.G. Henley
The Scourge (Book 1)

Seventeen-year-old Groundling, Fennel, is Sightless. She's never been able to see her lush forest home, but she knows its secrets. She knows how the shadows shift when she passes under a canopy of trees. She knows how to hide in the cool, damp caves when the Scourge comes. She knows how devious and arrogant the Groundlings' tree-dwelling neighbors, the Lofties, can be.

And she's always known this day would come–the day she faces the Scourge alone.

The Sightless, like Fenn, are mysteriously protected from the Scourge, the gruesome creatures roaming the forests, reeking of festering flesh and consuming anything–and anyone–living. A Sightless Groundling must brave the Scourge and bring fresh water to the people of the forest. Today, that task becomes Fenn's.

Fenn will have a Lofty Keeper, Peree, as her companion. Everyone knows the Lofties wouldn't hesitate to shoot an arrow through the back of an unsuspecting Groundling like Fenn, but Peree seems different. A boy with warm, rough hands who smells like summer, he is surprisingly kind and thoughtful. Although Fenn knows his people are treacherous, she finds herself wanting to trust him.

As their forest community teeters on the brink of war, Fenn and Peree must learn to work together to survive the Scourge and ensure their people's survival. But when Fenn uncovers a secret that shatters her truths, she's forced to decide who and what to protect–her people, her growing love for Peree, or the elusive dream of lasting peace in the forest.

A tale of star-crossed lovers, strange creatures, and secretive, feuding factions, THE SCOURGE introduces readers to a rich and exciting new world where nothing is as it seems.

"One of the Best Books I've Ever Read! . . . Buy it, borrow it . . . whatever, just read this book!"
-BookChick, blog review
2013 Next Generation Indie Book Award Finalist in the YA Category
"Looking for a trenchant, imaginative, beautifully written novel to read? Look no further: it's The Scourge, by A.G. Henley."
— Sarah Cloots, former editor at Greenwillow Books, imprint of HarperCollins Children's Books
"The prose flows smoothly and easily but there are much deeper issues lying beneath the surface of the story that are captivating and will hold the interest of readers of any age . . . I was quickly transported into the world of The Scourge and plummeted breathlessly toward the resolution. This is a very good book and a good look at just what science fiction can achieve when in the hands of a capable writer."
— Josef Hernandez, Examiner
"From the moment I started reading this book I was hooked . . . The Scourge is not only a story of survival; it is also a story of awakening, love, family devotion."
— ReadingDiva, blog review
Also available in the Brilliant Darkness series: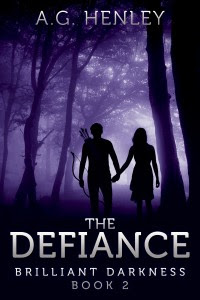 A.G. Henley is the author of the BRILLIANT DARKNESS series. The first book in the series, THE SCOURGE, was a 2013 Next Generation Indie Book Award Finalist.

A.G. is also a clinical psychologist, which means people either tell her their life stories on airplanes, or avoid her at parties when they've had too much to drink. Neither of which she minds. When she's not writing fiction or shrinking heads, she can be found herding her children and their scruffy dog, Guapo, to various activities while trying to remember whatever she's inevitably forgotten to tell her husband. She lives in Denver, Colorado.



Giveaway time: A. G. Henley's giveaway first: Open internationally. Terms and conditions in the Rafflecopter.
a Rafflecopter giveaway
Now for my box of used books:  The winner will receive enough paperback books to fill a medium USPS priority box, although I'll ship via media mail. I have hundreds of books to choose from even though I've given away 3 or 4 boxes since I took pictures of books for previous giveaways.  So if you want some books for adults not pictured in this post, please ask. I keep buying more, and I still haven't photographed books by authors with names in the upper part of the alphabet. Keep in mind that I also sent books from among the children's books, mostly middle grade and YA pictured here.
Don't be fooled by my blog title. Yes, it's still Sher A Hart: Written Art. But as I said above, this giveaway is for email subscribers to http://sherahart.net, not http://sherahart.blogspot.com. Terms and conditions are in the Rafflecopter, mainly that you need to be at least 13 years old and have a valid US shipping address.
Thanks for visiting and don't forget to comment. If you tell what book A. G. Henley compares hers to in this post (link will open in new tab),  it's good for an extra entry. Warning: Don't just say what book or everyone else after you will get the extra entry when you did the work. Give a clue that only someone who read that guest post will get.