Whew! Sher here with my IWSG post. That's Insecure Writer's Support Group, created by Alex J. Cavanaugh, in case you don't know. Yeah, I missed last month. Last month was the bomb. Not the good kind. I'm talking the have to do taxes kind. Also the get house ready to sell kind, which isn't finished yet. I bet everybody has the same time crunch, even if not for the same reasons. So this is
my sanity post for the month.
First, I get to whine.


Don't you hate it when you can't write? I do. So I'm writing here, even if it means staying up past midnight. Too much blogging is the kind of thing that can keep books from being finished. But book blogging isn't just to satisfy my readaholic nature and improve my writing anymore. Now it's how I find most of my editing clients. So my hubby can't complain anymore about all the time I spend reading. It's part of my business. How awesome is that?
Oops. I stopped whining already? I guess that means it's time to tell you some cool tricks I learned that can help you after you published your book and somebody tells you they found an error. Or a few errors. Or worse, lots of errors. Horrors! Backing up a bit, I'm going to tell you how I found these tricks.

Even before before I started editing professionally, I took notes on my kindle when I found errors, and then I sent those errors to the author. Uh-oh. The book's already been formatted for ereaders. What now? I didn't even think about how much trouble it would be to correct those errors in ebooks until an author asked me to do it for him. For pay. That's a nice incentive to learn new skills. Unfortunately, I didn't have time to learn then because it was time to do my taxes. Ugh. So I fixed the errors in his Word document, and he found a book designer to convert it to ereader format. Again. But I learned later, it's not too late to correct mistakes in a published book without having to pay a designer again. And it's not that hard.

First, if you hire a book designer, make sure you get a copy of the print formatted Word document, not just a pdf file. Ever tried to edit a pdf? Not easy. Correcting a Word document is much easier. And if you already have the document in print book format, all you have to do is edit and upload the corrected file, assuming it's print on demand.
Second, make sure to get a copy of the ebook formats you published too. There's free software called Calibre that can convert other formats to epub so the editing can be done by other free software called Sigil. Once you're done typing the corrections in Sigil, you reconvert to the previous format. With these two nifty tools, you can correct the ebook without ever converting to text and back. Saves a few steps and some cash. I've downloaded a bunch of corrected ebooks from various authors. Amazon sends me an email saying there's a new version, I click the link, and it takes about a minute to download. Boom, the book is updated and error free. Cool!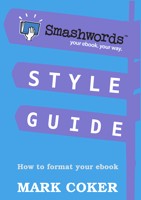 If you haven't published your book yet (or if you did but intend to publish more), here's another way to save some cash. Download the Smashwords Style Guide, free. Follow the instructions about typing with the "show formatting" tool turned on, using the "normal template" to format paragraphs instead of spacing or using the tab button, etc.. There are other simple things you can do to make your ebook look right on various types of ereaders, including using headers instead of a bunch of returns or a page break between chapters. Then your book designer will charge you way less than if your book is littered with bad formatting. This stuff applies no matter who your publisher is or if you self-publish. I'm still learning, but I'll get it all tucked into my head soon enough.

Okay, that's all for turning last month's insecurities into this month's securities. Until next time, remember, don't ever use that tab key! I don't know how I wrote for so many years without finding out I shouldn't tab. So tell me, is any of this news to you?