I count my blessings every night when I say my prayers. Because I live in a free country with my hubby working to put food on our table, I don't have to do backbreaking labor all day. I have time to read and write. I've collected a lot of books over the years, and I read them to my sons until they could read on their own. Now my boys are grown into men. I need to get rid of a mountain of books.
I have a plan. It's called "Counting Book Blessings" to go with the Gratitude Giveaways Blog Hop hosted by
I am a Reader, Not a Writer
. I'm starting with two hardback books you can choose from if you're a winner in my giveaway. I will add at least two more books in every post from now until the end of the giveaway, midnight on 27 November. Some will be E-books to be shipped by the authors, some will come from my mountain of used books. At the end of the period, there will be drawings of as many names as there are featured author's books and E-books available plus one for the books in my collection. The physical books are for US shipping only. If you win my books, I will ship you your choices of one hardback and as many paperbacks as fit in the medium flat-rate priority mail box. I'm guessing at least 6 paperbacks besides the hardback.
The entry requirements are easy, one entry allowed per person. Do whichever applies to you:
1. If you're not a follower, follow this blog through Google Friend Connect and leave a comment with your email address so I can contact you if you win any of the prizes.
2. If your face is already among the followers on my sidebar, you may do one of the following: either like my Facebook page (there's a link on my sidebar) or post this giveaway on any social media such as FB or twitter (links are at the bottom of this post). You also need to leave a comment with your email address, saying what you did.
*edit* I neglected to mention you need to state whether you're US or international in your comment so I can separate the drawings. Thanks.
I took pictures of today's books but I'm away from home and can't access them. So I'm just telling you the first two used hardback titles you can choose from if you win.
1. Inkspell by Cornelia Funke, the sequel to Inkheart.
2. Breaking Dawn by Stephanie Meyer, one of her vampire series.
Elizabeth Kirke
, whose book I introduced recently, is adding her YA E-book,
Semester Aboard
, as one of the Gratitude Giveaways prizes.
Here's the short description: Jen is looking forward to spending an entire summer studying abroad on a cruise ship and she knows the experience will change her life. Then she sees something she wasn't supposed to see, something she can't explain. Jen finds herself thrust into a world she never knew existed and her life will change more than she imagined. That is, if she can survive the dangers lurking on the ship. If you guessed there's something magical about this book, you guessed right.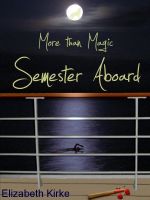 The following is my author interview with Elizabeth Kirke, who I adopted as an indie through Donna Brown's Adopt an Indie Month. My questions are in black and Elizabeth's answers in blue. That color combo does not mean I beat her up to get these answers. She played right along, thank you very much.
Why did you start writing?
I've always wanted to be an author. I really couldn't say why I started, I've just been writing for as long as I can remember. I guess I've always had stories tumbling around in my brain and I want
to share them. I've always been an avid reader too. Writing is also a great way to get away from it all. I often take my laptop along on vacations so that I can write. I also always have a notepad, just in case I need to jot down new ideas.
What most influenced you to write in this genre (one particular author or many)?
I've always been a big fantasy/science fiction nut. I grew up on The Lord of the Rings, Dune, Mercedes Lackey, The Lion, The Witch, and the Wardrobe, and, of course, Harry Potter. I think it was only a matter of time before my writing was influenced by them. I do have a couple of things I've written that are set in a purely non-magical world, but they never hold my interest long enough to finish!

Please tell about your WIPs, at least genre and age group, even if the rest is hush-hush.
Well, I've got 2 fairly long WIP's that pre-date Semester Aboard. One is a sci-fi that takes place in outer space and the other is about elves. I think the sci-fi may be shelved for a long time, but I've been tinkering with the elf one recently. That may see the light of day soon. I'm also working on a sequel for Semester Aboard.
Are you an outliner or a pantser and why?
Gonna be honest, I've never heard the term pantser before! I'm going to assume it's something along the lines of flying by on the seat of my pants. My writing style doesn't really fall in either side. On one hand, I plan everything. I'm never satisfied unless I have detailed background story for my characters. I have timelines with notes on what each character was doing in every year of their lives. I have tons of notes on magic, and vampires, and how things came to be. I also have very detailed biographies on every character.

However, when I start writing I know where it's going, but not how to get there. The characters – and I find other authors often know what I mean by that – take it in their own direction. I just sort of guide it.
What is your editing system, a local critique group, online partners, beta readers, pro, etc.?
I have a few people I send each chapter to as I finish and I edit each chapter until I'm satisfied, then I move on to the next one. When I'm done I go back over the entire book and look for remaining errors. I'm always amazed by the amount of small errors I run across after being sure that I had found them all. Even after publishing I spot a few double-periods and typos. I go through and fix them every time. A lot of people shy away from indie authors because of errors, and I agree with that. My book wasn't perfect when I published it, and I bet it still isn't 100% perfect (even traditionally published books have mistakes that sneak through the cracks). That said, we indie authors are in the unique position that we can find edits and fix them with a few simple clicks. I don't think there is any excuse to have a typo-riddled book that you never fix. You also shouldn't publish until you're sure there's nothing left but a missed comma here and there. And even then, if you know about the errors: fix them!
What are the top three reasons you decided to publish as an indie?
Aside from the aforementioned fixing? One reason was the control. Not just over my book itself, but over how it's distributed. I can even see the number of pageviews I get! I can track how many samples are downloaded and I'm updated instantly when I sell a copy. It really helps me figure out what advertising is working and what isn't. With Smashwords, where I initially published, I can even create coupons and give away copies. I feel like being traditionally published would take a lot of that control out of my hands. I could decide right this moment to go offer free copies on Facebook or something, and then just do it. I really like the freedom to market and control my book my way.

Second, I wasn't sure if a traditional publisher would accept me. A lot of places had word limits for first-time authors. Most were around 80-100k and mine clocked in quite above that at 142k. As I wrote I kept seeing publishing houses with open submissions closing them before I was ready to submit. As for the agent…I just wasn't sure if getting an agent was what I really wanted. Going back to my first point: I wanted to stay in more control.

And last, e-books are getting big. Not a day goes by when I don't see a new article about the boom of e-books and e-readers. It seemed like e-publishing was the logical step. Being able to do it all myself was very appealing.
What advice do you have for aspiring writers/authors?
Write! Write more! Even if you aren't always writing your novel, try to write something. Don't force your novel either. If it isn't speaking to you, don't sit and stare at a blank page for hours, take a
break and write something else! Write about a character in it or some back-story. It will keep you writing, you'll feel like you got something done, and it might even help you out in the future!
I want to thank Elizabeth for taking the time to satisfy my curiosity. I hope she satisfied yours too. If not for the cultural fair my hubby roped me into this weekend, I'd be reading Semester Aboard by now. Instead I'm playing Cowboys and Indians with my hubby at a huge cultural fair in Mobile, Alabama. But you don't have to wait, you can get your copy from Smashwords right now.
On my Sunday Service blog, a surprise author is giving out a younger children's book, so be sure to check back every few days as I post more books you can choose if you win.
That's it for today unless you want to get in on this month's books and chocolate follower contest. It's under the contest tab at the top of this blog and is always open to anyone who didn't yet win, with a drawing on the 11th of each month. It has a Book Depository option for international followers.
Now you can enjoy hopping to your heart's content between Gratitude Giveaways. Enjoy!