It's time for another
RABMAD
post. Say what?
Read a Book, Make a Difference
, that's what. You can make a difference for charity if you buy today's featured author's book, because she gives a portion of book profits to charity. You can find
Martha Rodriguez
among other authors who give back on
www. RABMAD.com
, a site created by
author RS Guthrie
to showcase authors who give back. Since I can't join RABMAD until I publish my own book, I give back by featuring other charitable authors.
You can also win today's featured book by Martha Rodriquez, A Reel Cool Summer, as one of many in my Counting Book Blessings Contest for the larger Gratitude Giveaways Blog Hop hosted by I am a Reader, Not a Writer.

More on the other giveaways in a bit. First let's find out more about Martha, her book, and her chosen charity. with full credit for all the information found on the RABMAD website.
Martha Rodriguez is the author of the children's picture book A Reel Cool Summer which was published on June 21, 2011. She is also the owner of Read To Me Publishing, LLC.
She was born in Havana, Cuba and came to the United States with her family at the age of three. She is a wife and the mother to three awesome kids. Like most moms, she has had many years of experience answering the question, "We're bored, what can we do?" One answer to that question brought about the story behind A Reel Cool Summer. With encouragement from family and friends she decided to write and self-publish the book. Her oldest son, Joey, illustrated the book, making it a fun family project. She is currently working on a second book featuring the three wacky siblings from A Reel Cool Summer.
Martha has been active in her church as well as her children's schools; volunteering wherever her talents were in demand. She is a supporter of literacy initiatives and has been a volunteer Adult Literacy Tutor with Literacy Volunteers of Leon County (LVLC). She served on the Board of Directors of LVLC from 2008-2011 as a member, the Vice President and as Fundraising Committee Chair.
Martha and her family live in Tallahassee, Florida.
A Reel Cool Summer

It's the hottest, most boring day of summer vacation! It's so hot and boring, it feels like you're in a mall that's made of really, really hot lava!
Confused?
That's okay. It will all make sense once you meet Joey, Danny and Jacqui. Will the three siblings find a way to cool down? Can they turn this boring day around? Will aliens take over the world?
Wait… what?
A Reel Cool Summer has all the ingredients for a great movie adventure: a pirate, a princess, a prize and a pig (well, two pigs… well, actually, two guinea pigs)!
Martha's Cause:
The non-profit I will be supporting through the sale of my book ($1 per book purchased from my website) is Literacy Volunteers of Leon County in Tallahassee, FL, my home town. As you see in my bio, I have been an adult literacy volunteer tutor there as well as a member of the Board of Directors in various capacities. Literacy is an important component in the quality of life of individuals and the community as a whole. Literacy Volunteers of Leon County (LVLC) trains volunteers to tutor adults in basic literacy skills, provides one-to-one and group classes in English for Speakers of Other Languages (ESOL) and provides after school homework help, tutoring and summer programs for kids… all free of charge. Their website is: http://www.literacyvolunteersleon.org.
Author Links:
Author Website: http://www.readtomepublishingllc.com
Twitter: http://www.twitter.com/areelcoolsummer
Author Blog: http://areelcoolsummer.blogspot.com
Facebook: http://www.facebook.com/ReadToMePublishingLLC
Amazon: http://www.amazon.com/Reel-Cool-Summer-Martha-Rodriguez/dp/0615490980/ref=sr_1_1?ie=UTF8&qid=1316555207&sr=8-1
I already read Martha's book and I think it looks like a great way to spur the imagination of bored children. Boredom is bound to happen about 10 minutes after they open their Christmas presents if yours are anything like mine were, that is unless they find a supply of good books under the tree. I'm guessing ages 3 up through 2nd or 3rd graders will admit to enjoying the 32 page picture book, and older siblings will secretly enjoy reading it to the young ones. One bonus is a message that you don't have to win first place to find the fun in life.
Martha will ship A Reel Cool Summer to one lucky winner of my Counting Book Blessings contest as part of the larger Gratitude Giveaway. It should arrive in plenty of time to prevent boredom during the Christmas holidays. I hope those of you with children, grandchildren, nieces or nephews and friends with children (did I miss anyone?) will buy this book if you don't win it. Why not support literacy when you buy Christmas gifts this year?
Now I promised I would add at least 2 books to my Counting Book Blessings pot during each post through Nov. 27. Martha's book A Reel Cool Summer is one and here's the second.

Kiln People by David Brin is a SF thriller that should have been titled Kill'n People. I must warn of some adult language and situations but it was still one of the few books I couldn't put down once started. These were the avatars before Avatar. How many copies of yourself would you throw into dangerous situations if you could live, only to die another day? This plot had more unexpected twists and turns than a rabbit's warren and as many offspring. It was a great read for an extended adrenaline rush.
And here are the pictures of my two previously listed gently used hardbacks you can choose from:
1. Inkspell by Cornelia Funke, sequel to Inkheart
2. Breaking Dawn by Stephanie Meyer.
If you're new to my Counting Book Blessings giveaway, I'm here to tell you I'm drawing one name (for US shipping only) for the winner's choice of one hardback and enough of my used paperbacks to fill a medium size priority box. I'm also drawing enough names for someone to win a book from each author featured on my blog during the contest period, with the E-books also eligible for international entries.
The first E-book is Elizabeth Kirke's Semester Aboard and you can read more about the book in her interview post kicking off the contest.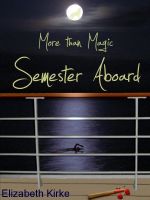 I neglected to mention that I need to know whether your entry is US or international in order to separate the drawings, so I've added that to the contest entry requirements.The entry requirements are easy, one entry allowed per person. Do whichever applies to you:
1. If you're not a follower, follow this blog through Google Friend Connect and leave a comment saying whether you're US or International along with your email address so I can contact you if you win any of the prizes.
2. If your face is already among the followers on my sidebar, you may do one of the following: either like my Facebook page (there's a link on my sidebar) or post this giveaway on any social media such as FB or twitter (links are at the bottom of this post). You also need to leave a comment stating US or International along with your email address, saying which thing you did.
That's it unless you want to win both books and chocolate. You can do that through the contest tab at the top of my blog. There's a Book Depository option for International followers and another drawing every month.
After you comment, you can find the entire linky list of 300+ easy contests in my last post. Enjoy!